Tungsten Copper Rod Properties >>
Tungsten Copper Rod Types >>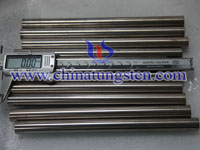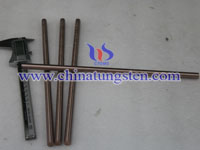 This is a mini-website professionally introducing tungsten copper rod offered by Chinatungsten Online. ..... >>
More
Tungsten Copper W70 Rod
Tungsten copper W70 rod is composed of 70% W and 30% Cu so that it is harder than W50 and W60 rods. Its density is up to 12.75g/cm3, hardness reaches more than HB140, and conductivity is 47IACS%, softening temperature is ≥900℃ and the bending strength is 790. In addition, tungsten copper W70 rod belongs to refractory metalsand has excellent mechanical strength and anti-arc ablation capability so that it can be used for vacuum contacts, transformer switch and some electrical forging industries.
Besides, used as the contacts, tungsten copper W70 rod has good mechanical properties and anti-seismic, which can be welding for supporting W-Cu contacts.
Notice: Tungsten can be easily to be molding, milling machine, lathe, grinding machine and wire EDM can be used, tungsten copper may be due to impact or excessive force and lack of processing load occurs when making sharp wave wall. In order to avoid processing lacking, we should focus on the load force of drilling. And tungsten copper is non-magnetic so that we have to make sure that the products have been firmly fixed before machining.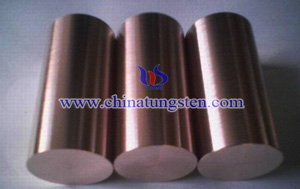 If you have any other question or inquiry of tungsten copper rod, please feel free to contact us through the following methods:
Emails:sales@chinatungsten.com
Tel.: +86 592 5129696/86 592 5129595
Fax: +86 592 5129797
More Info>>
1.Tungsten Copper Products  2.Tungsten Copper Military  3.Copper Tungsten